Process
From mindmaps, to conceptualizing the idea, to sketching it, designing it and actually make it.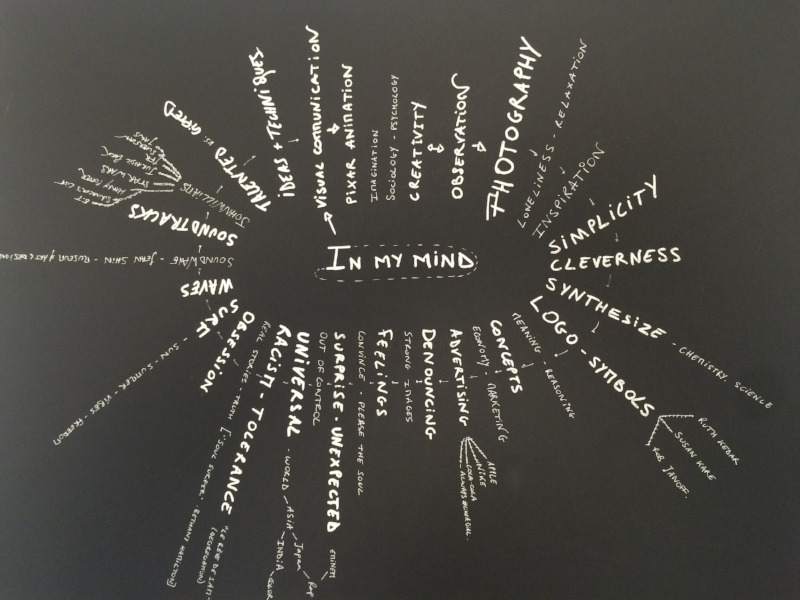 Concept
Create an image-based language that questions semiotics and the appearance of an image in the context of contemporary visual culture that can be understood by everyone. A 3D object makes this possible.
There's a simple code to learn to be able to understand the language where each shape represents a word, but combined with a sphere or a cube, for example, can change its meanings. Its place in the sentence can change its meaning too. The idea is to design the most simple and concise language possible.
Inspiration
Bruno Munari
"We should try to use the symbols as the words are used in a poem: they'll have more than one meaning, and the meanings will change according to where they are put," Munari wrote in his 1966 work on the subject, Design as Art.
MakerBot Replicator 2
"The seven organic 3D printed forms can be combined with half a dozen "type designators" to create a language of touch. Made from ABS and printed on a MakerBot Replicator, Tartour's forms stand as pieces of art on their own, and she's even written 'poems' with them to hint at the possibilities they contain." MakerBot Stories - Article
Final Project
The first sentence ever written in this language is "There is no word to describe". I thought it was appropriate and meaningful because as paradoxical as it may seem, this language is not using words anymore. The project was exhibited at Parsons Paris, and a few press articles were published!
Exhibition
Parsons allowed this project to be exhibited within the school, in Paris. It was a great opportunity and experience. The project was also featured in a school booklet.
Photo: Puxan BC
Digital Adaptation
This was an attempt to digitalize the language. A code that would allow to create 3D shapes that represent words.